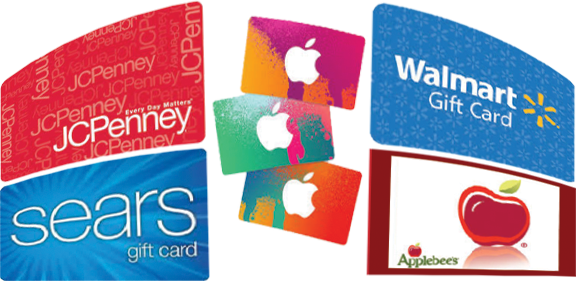 Got Gift Cards? Sell Them For Cash!
CFC Gift Card is focused on providing quality service and customer satisfaction – we will do everything we can to meet your expectations. We buy all brands of merchant gift cards and store credits. We buy your unwanted, unused, and extra Gift Cards or Store Credit and help you when you are interested in selling gift cards for cash! With a variety of offerings to choose from, we're sure you'll be happy working with us. Look around our website and if you have any comments or questions, please feel free to contact us. Consumers will spend billions of dollars on gift cards this year. In today's society Gift cards are a very popular form of giving, however often they are unwanted or go unused. Billions of dollars go unused every year – don't let that happen to you! Come on by or call your local CFC Gift Card store and GET CASH FOR GIFT CARDS! We will make you a cash offer right on the spot.
The Future Of Gift Card Sales
"Mercator Advisory Group forecasts that growth in the open loop prepaid loads in the United States will be 2% through 2023, reaching a total of $402.8 billion. Declines in some segments and noteworthy growth in others have led Mercator Advisory Group to revise its expectations for the overall market." Gift cards are among each year's most popular presents. Even with gift card popularity, dollars on those cards go unspent. That's where we come in. At CFC Gift Card, we realize the major need for a secure secondary marketplace to buy and sell gift cards. For buyers, our site presents an opportunity to pick up gift cards at savings up to 30 percent. The cards can then be given to friends and family or redeemed for store merchandise. This provides an easy opportunity to fight the rising costs of living and save thousands of dollars annually. For sellers, this is a quick and convenient way of selling gift cards for cash. Don't lose any more money on unwanted or unused gift cards, stop by one of our locations and get cash for gift cards!