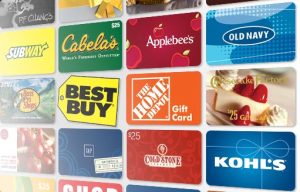 Consumers will spend billions of dollars on gift cards this year. Both National & Local Merchants are well aware that Gift cards are big business generators. They also know that a good gift card campaign promotes their business, improves cash flow and drives bodies through the door.
In today's society Gift cards are a very popular form of giving, however often  they are unwanted or go unused. Billions of dollars go unused every year – don't let that happen to you!, that's like throwing hard earned money out your window! Come on by or call your local CFC Financial store and we will make you a cash offer right on the spot.
Cash For Cards – here at  CFC Financial we can buy your unwanted, unused and extra Gift Cards or Store Credit cards for Cash!