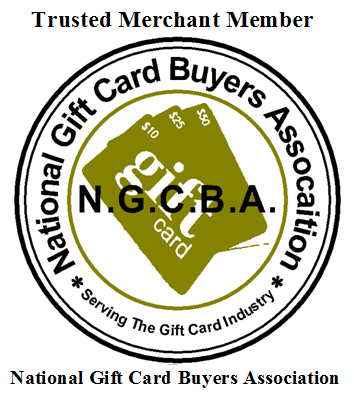 CFC GIFT CARD IS A TRUSTED MEMBER OF THE NGCBA
The National Gift Card Buyers Association was formed in 2012 by members who had extensive back ground in the gift card secondary marketplace. The goal of the NGCBA is to help gift card merchants in multiple areas: Loss Prevention, Security, Legal, Services, Books, Collections, Insurance, Product discounts and Vendors.
Our Association offices are located in Glendale, AZ. We have a dedicated staff that is constantly researching every aspect of the industry and sharing information with our members, assisting their profitability.
LOSS PREVENTION
The NGCBA was the first of its kind to unite other merchants who are in the same business to share negative information about scams and people who have given other members bad gift cards. Additionally, a National Blacklist (buyers and sellers) was developed warning of scammers within the industry. Members use this information to avoid doing business with persons on that list.
Our goal is to get the criminals out of the business, or, at the very least, make it harder for them to pass off bad cards to other members. The NGCBA has initiated a National database that can be shared with all members.
It is the goal of the National Gift Card Buyers Association to make the Secondary Gift Card Marketplace a safer and secure one for all Buyers as well as Sellers. Feel free to check out our website at www.ngcba.com